By Ola 
IBADAN — THE furore generated by the coronation of 21 new kings in Ibadanland is yet to abate as some Mogajis under the aegis of Council of Mogajis of Ibadanland and Integrity Youths of Ibadanland staged a protest in some parts of the city to show their loyalty to the Olubadan of Ibadanland, Oba Saliu Adetunji who described the beaded crowns on the kings as fake ones. The monarch restated his stance that the new kings should wait for their time.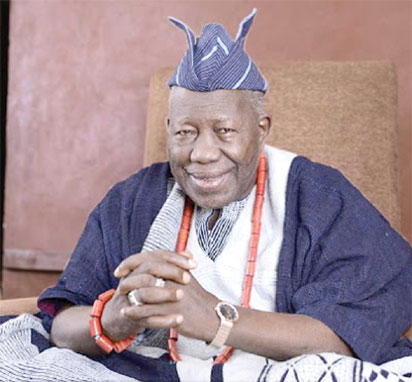 They started the protest to the palace of the monarch after speaking with newsmen at Iyaganku, Ibadan. Among the protesters was Alhaji Hazeem Gbolarunmi who deputized for Otunba Adebayo Alao-Akala after the impeachment of Senator Rashidi Ladoja. Before now, the ex-deputy governor had been in the cooler. Others included Moshood Akere, Molade Adeyemi, Olawale Oladoja and Jelili Adanla, Mogaji Abass Oloko, Mogaji Olasegun Ademola, Mogaji Badmos Adewale, Mogaji Ifelere Osho and Mogaji Lamidi Olalekan.
While receiving the protesters in his palace, Oba Adetunji said, "I started as a Mogaji. I was moving step by step before I assumed the throne after 40 years. I thank God for that. We must all love one another. If you love yourself and hate others, your purpose of love is nothing. I was called by the elders of my family to come and become a Mogaji more than 40 years ago. I rejected it and for three years, they were approaching me for the role.
"Those who were crowned a few weeks ago know within themselves that they are wearing fake crowns. It is just a carton crown. I began my journey more than 40 years, why can't they wait for their turn. If you don't wait for your turn, you will be on the wrong side of destiny. In trying to convince myself, the representative of my family told me that it could be that one day I would become a king. I then accepted it and became the Mogaji of my family. I waited on God and he made me king.
"The crown which I wear has its root from somewhere. I cannot bless a crown that has no root. You will recall that the same Ibadan Elders' Forum stoutly opposed the former Governor Adebayo Alao-Akala's move to elevate six Baales in their letter dated April 24, 2009. On page 2 (ii) of that letter titled "The composition of Oyo State Council of Obas and Chiefs" signed by Ambassador Olu Sanu and Onaolapo Ajibola, they stated:
"The (Ibadan Chieftaincy) system had worked for ages and ensured peace and stability in Ibadan land and the forum would, therefore, not want the government to tamper with the system in order not to create confusion and ill-feeling. He explained that Baales in Ibadan land were village heads who were nominated by Mogajis who were compound heads in the city. Mogajis who were traditional fathers of Baales were themselves not yet titled chiefs of Ibadan land."
Mogaji Gbolarunmi who spoke on behalf of others said, "We are only here to pay a solidarity visit to him. The purpose is to inform the government that we wanted to be heard and to be seen that they should maintain the status quo. They should go back to the status quo of the traditional chieftaincy."